TIN TỨC
Fusheng Go Service IoT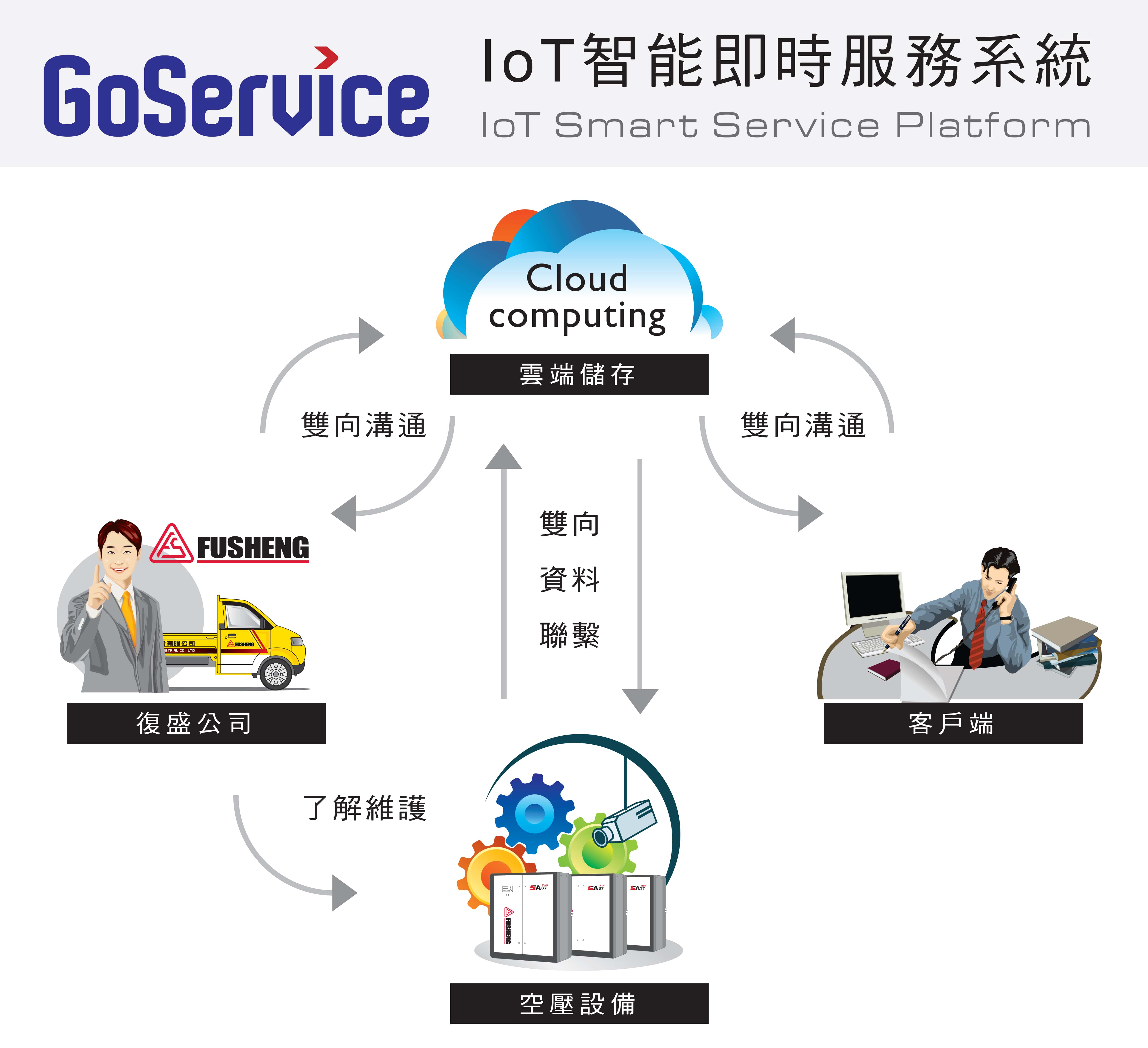 Fusheng's GoService, the powerful IoT Smart Service Platform
While promoting Energy Management & Efficiency improvement policy by the government, one of the basic criteria is to record the Energy consumption data of big equipments. Fusheng, the Air compressor leader newly launch GoService IoT Smart Service Platform, which can tightly link all the Manufactoring, Product, Customer & Service process together through this system, to provide Predictive Maintenance, Status Overview, Real-Time Service, Data Analysis, Energy Diagnosis , and Historical Information...major six(6) features.
The General Manager of Fusheng Asia Pacific region, Simon Huang, noted that in order to enhance the business link network service for manufacturers to do intelligent service, GoService IoT Smart Service Platform can remotely via wired network or 3G/WiFi communication to collect the operating status of the compressor and reprocessing equipments, which including hours of unloading/loading, voltage, current, power consumption, discharged pressure, temperature, dew point temperature, air flow, hour of maintenance, alarm messages,… which the customers can avoid spend too many man-hours for recording, and record all the operation data and allow convenient browing.
Kim Chen, Fusheng's Global Chief Information Officer, noted that if there the supply pressure is not enough, through the GoService IoT Smart Service Platform, which can auto-send out mobile SMS or E-mail, to inform the facility production engineer and Fusheng's service team.
Facility engineer can take care in advance and inform the production line to react with well preparation, Fusheng service team also will contact with the customers within the shortest possible time, to reserve the on-site maintenance, and reduce the down-time of compressed-air equipments.
Kim noticed that, GoService IoT Smart Service Platform is able to retain 5 years or longer the air compressor operating data of the customers into cloud server, and provide the energy-saving diagnostic function.
It also can get the energy analysis report on line, which the customers can immediately realize the energy-consumption status of each air-compressor, and rooms for improvement.
Fusheng is providing completed air compressor service platform, currently there are over 30 members of ISO50001 auditor and audit leader, and 3 experts of CMVP international energy efficiency measurement verification, Fusheng's energy-saving service team is absolutely capable of providing relative professional solution for necessary advanced energy measurement, verification, and advice of improvement…etc.
Media link :

Back